1. Legal And General (LGEN)
Legal And General is a global insurance company operating in a mixture of retirement, investment management, and insurance products, such as; mortgages, pensions, and healthcare insurance. The company is listed as a holdings company for the many different sectors they currently operate in.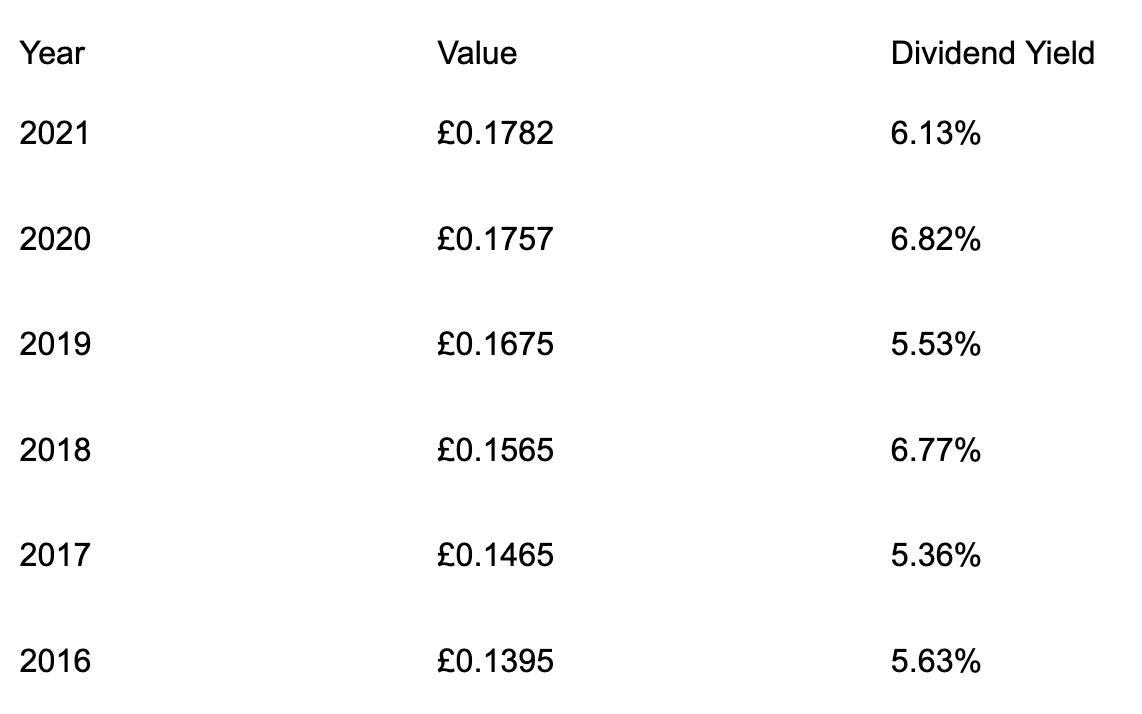 Over the last 5 years LGEN has maintained a dividend yield of above 5% consistently. The company offered highs of 6.77% in 2018 and 6.82% in 2020. Generally, the dividend yield has been growing overall since 2013, with a consistent yield offered each year.
2022 Dividend
As LGEN has not announced dividends for this year yet. Therefore, we can only look at the historical data to try to predict future payments.  So far, every year since 2014, LGEN has announced a dividend in March, to often be paid out in June. Waiting for an announcement may be the best decision at this moment. The company has also paid out interim payments occasionally, but is irregular, hence is not worth counting on completely. If the company were to offer an additional dividend, it would likely be announced later this year.
2. Persimmon (PSN)
Persimmon is a British house-building company. Persimmon is made up of 31 regional operating businesses, such as executive housing and social housing, building homes in over 380 locations worldwide. Additionally, one of their businesses focuses on the manufacturing of timber frames and insulated wall panels which can then be used in the construction of new homes.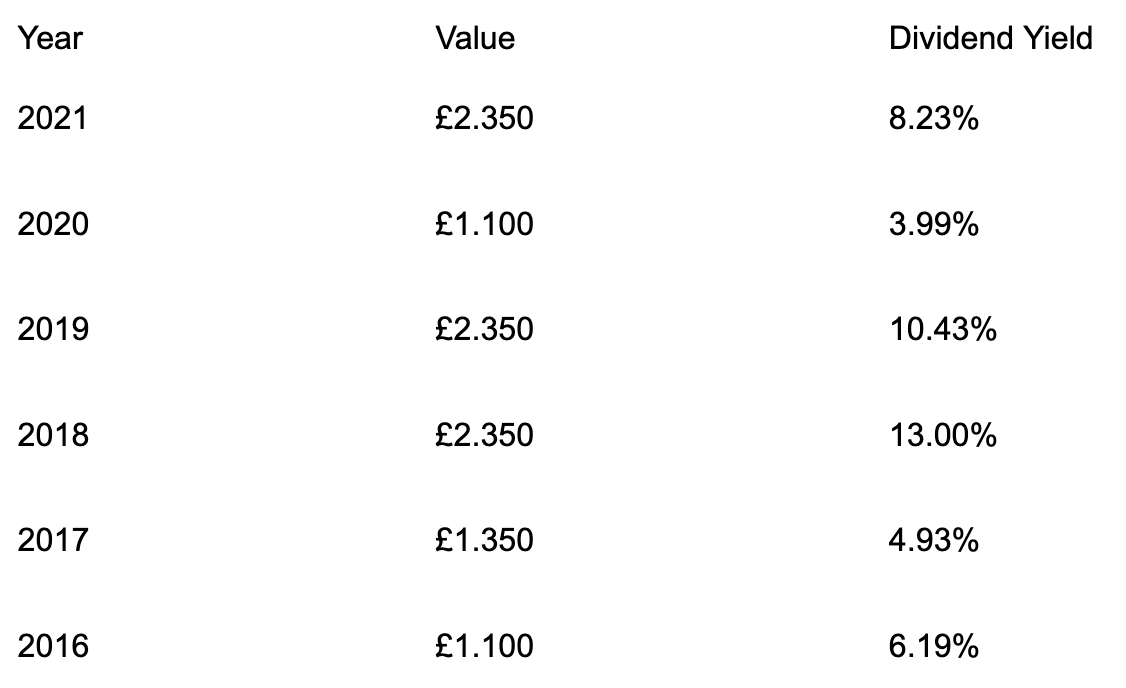 Persimmon has consistently delivered a high dividend rate, with only one instance in the last 10 years, where they did not pay a dividend, which was in 2014. The 2020 yield dropped to 3.99% after 10.43% in 2019 and 13% in 2018.
2022 Dividend
As PSN have not announced a dividend for 2022 yet. They are set to make an announcement on the 27th of April 2022, which could be dividend projections for the remainder of the year. So far, based on historical data, they pay dividends bi-annually, often of a similar amount each time roughly between February and March time. Although nothing has been announced yet, we would expect at least a dividend later this year based on this premise.
3. Phoenix Group Holdings (PHNX)
Phoenix Group Holdings is one of the largest long-term savings and retirement companies in the world. The company specialises in the management of insurance policies, as well as workplace pensions, customer savings, and investment products.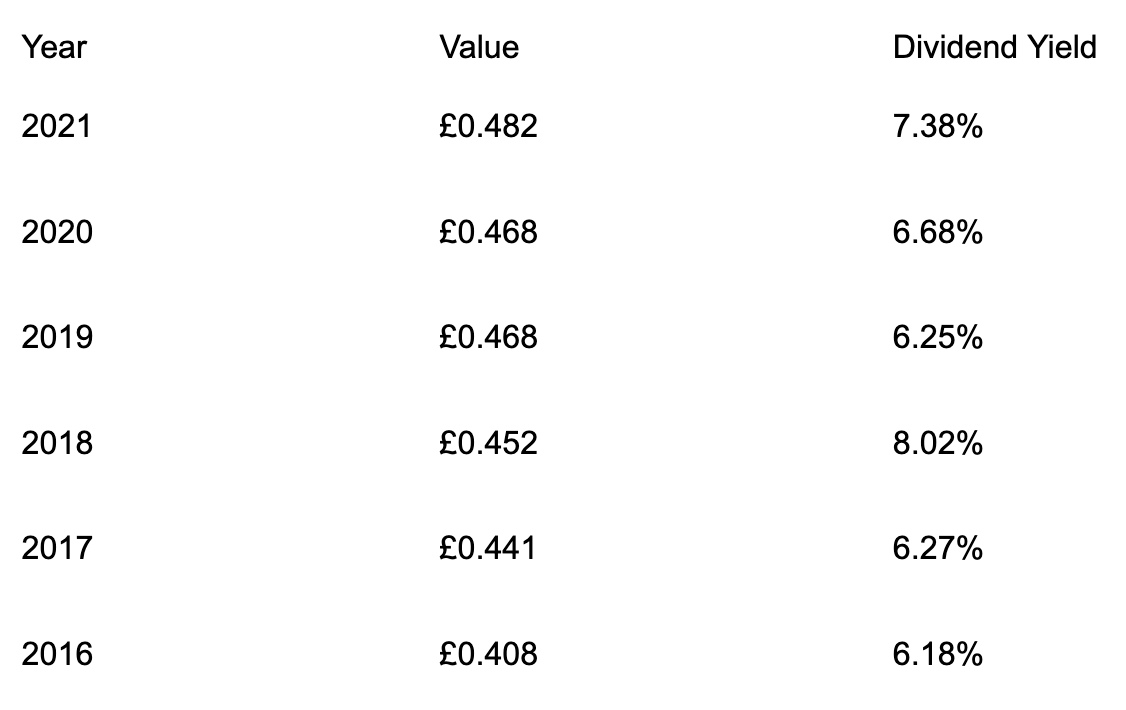 The dividend rate for Phoenix Group Holdings has been extremely consistent for over 10 years. This is the most consistent on the list ranging from around 6-8% dividend yield.
2022 Dividend
PHNX has reported the final dividend for 2021's earnings will be paid on 9th May 2022. The amount has not been confirmed yet, but the Ex-Dividend date is 31st March 2022. Based on earnings, the company has announced an interim that could be potentially paid out on the 12th of September 2022 if the company meets earnings targets. Since 2011 the company has paid out two dividends a year so based on the track record, it is likely we see two dividends this year for PHNX.
4. Imperial Brands (IMB)​
Imperial Brands is one of the largest tobacco companies in the world. The company manufactures, imports, markets, and sells tobacco and tobacco-related products across the globe. IMB holds a wide variety of brands in its product portfolio, including; Rizla, Backwoods, and Parker & Simpson.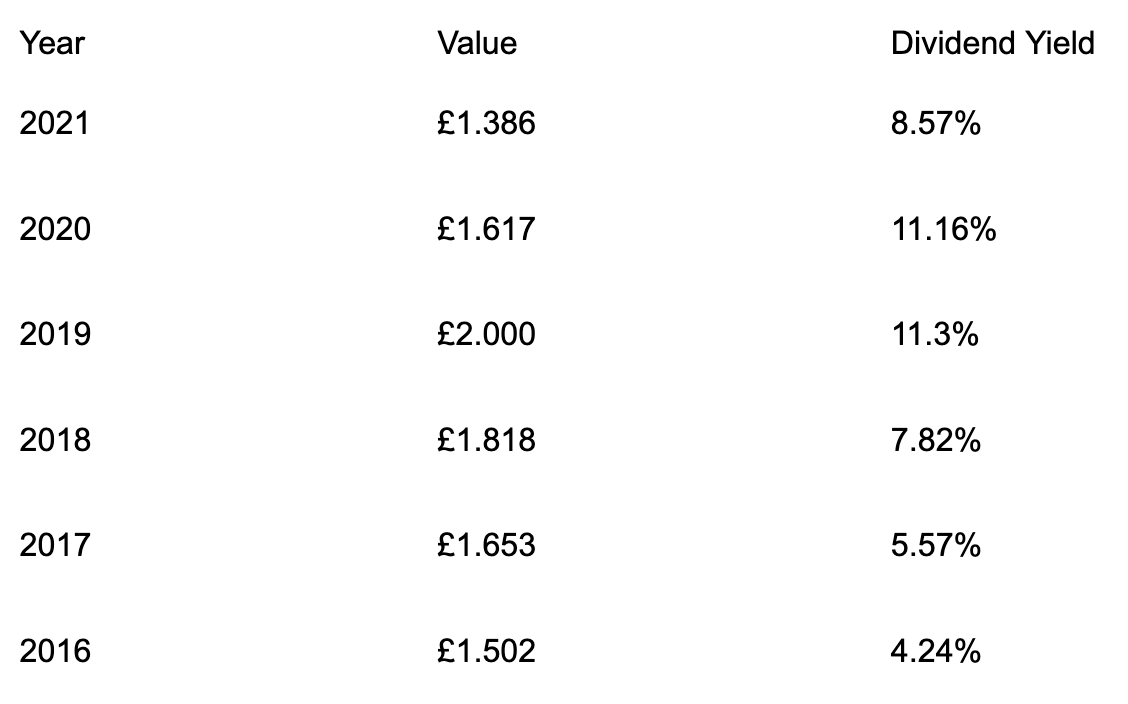 Imperial Brands currently offers a very high dividend rate with an aspect of diversification. The dividend is relatively consistent with only one instance where it dropped below 5%, which was in 2016 when the dividend yield totaled 4.24% for the year.
2022 Dividend
IMB has announced a dividend of £0.485 so far for 2022 with the payment date confirmed as the 31st March 2022. The Ex-Dividend date for this has just been missed the 17th February 2022. However, since 2016, the company has announced a dividend every February, May, August, and November, with payments following in the months after. Therefore, we can reasonably expect, passed on the company history, another 3 dividends could be announced later this year.
5. British American Tobacco (BATS)
Founded in 1902, British American Tobacco is a multinational company that manufactures tobacco and nicotine products, (also vapour) it has grown to become one of the largest cigarette makers in the world based on net sales.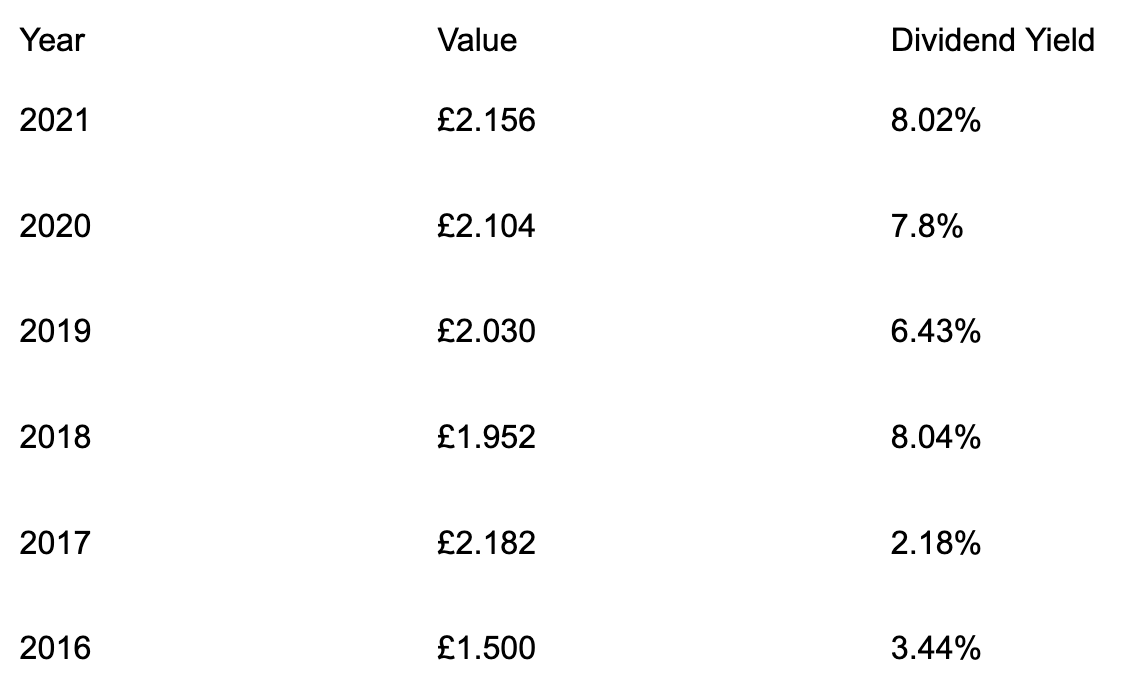 British American Tobacco has been paying a consistent dividend for over 10 years, generally ranging between 2-8% each year. Again, a great diversification investment from the remainder of the market. Although dividends have been fairly volatile over the past 10 years they have generally grown. Its dividends are also seen as being reasonably well covered by earnings.
2022 Dividend
BATS has announced on their website there will be a series of four payments over the course of this year. The payments are; the first is on the 4th May, the second, 17th August, and the third 10th November 2022. The final payment will likely carry over to 2nd February 2023. All of these dates are preliminary and are subject to change but the company has been very consistent with delivering dividends in the past.
6. Evraz (EVR)
EVRAZ plc is a global steel manufacturing and mining company offering a wide variety of different steel and coal products. The production is mainly used for building and railway infrastructure. Some of you may recognise the majority shareholder, Roman Abramovich (Owner of Chelsea F.C).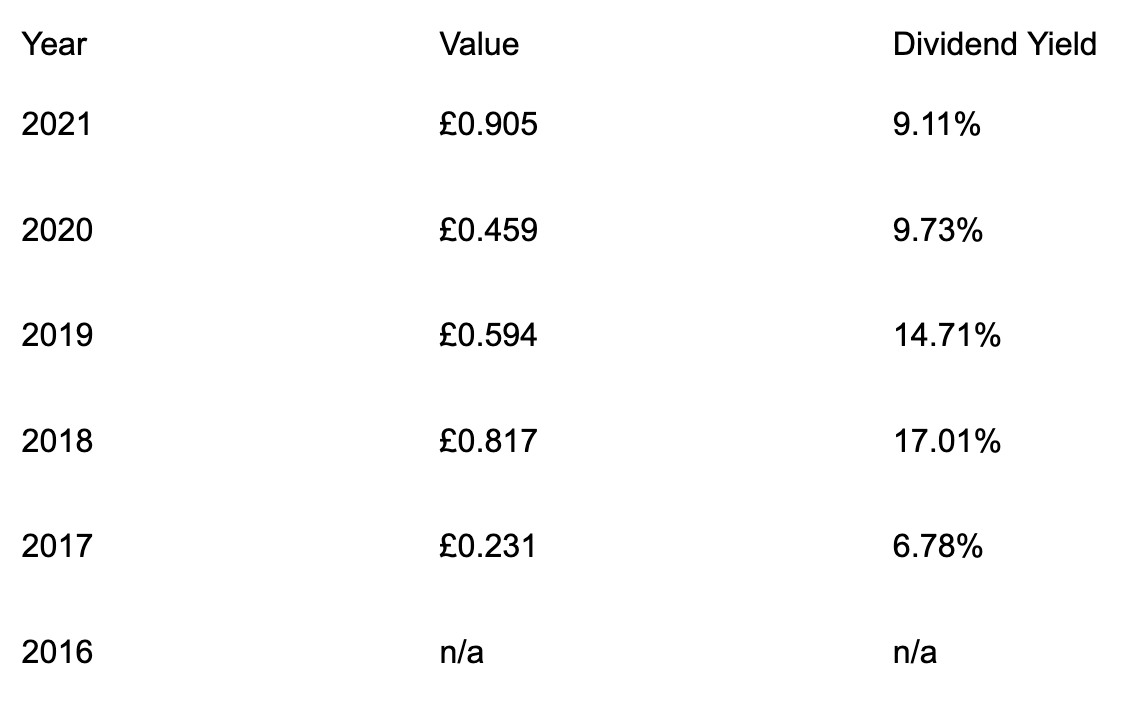 Historically Evraz stock pays dividends twice a year. However, in 2021 shareholders saw three dividend payouts. Evraz does not have a long history of consistent dividend payouts. Since 2017 dividends have been fairly consistent in being issued and at a high level but prior to that, dividend payments were inconsistent if at all. For example, in 2015 dividend yield totaled 22.19%, but for 2016, there was no dividend.
2022 Dividend
The last dividend for EVR was paid on the 14th January 2022 so has been missed. However, the company often announces a dividend in March and August, with occasional interim dividends throughout the year. EVR has paid a minimum of two dividends each year since 2017, with up to four in one year in 2021. We can, therefore, expect based on the pattern of dividends in the past that there will be multiple dividends announced later this year.
7. Rio Tinto (RIO)
Rio Tinto is one of the world's largest metals and mining companies.  RIO owns mines, refineries, smelters, and power stations operating across the globe with the majority of its mining being of; iron ore, aluminium, copper, and uranium. The company also focuses on rare minerals such as diamonds, gold, and titanium.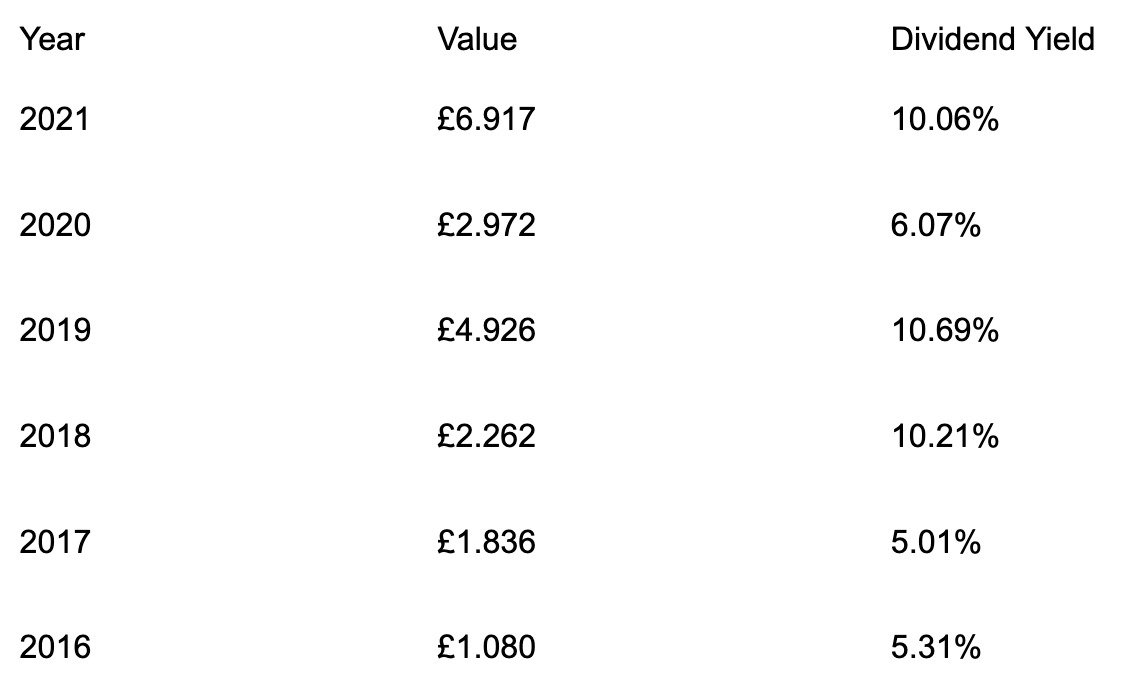 Rio Tinto has been paying consistent dividends for over 15 years to its investors. Over the last 10 years, dividend growth has been generally positive. In terms of the number of payouts per year, this seems to vary year on year if looking at special payouts, interim and final payouts.
2022 Dividend
For RIO, although the amount has not been confirmed for the dividend, the payment dates have been announced. The Ex-Dividend date is the 10th March 2022 with the payment date on 21st April 2022. The amount will likely be announced closer to the time. RIO also has also announced a following interim payment on the 22nd September 2022, with an Ex-Dividend date of 11th August 2022.  The company also boasts bonus dividends in recent years, but any have yet to be announced.
8. BHP (BHP)
BHP is the world's largest mining and metals company as well as being one of the largest companies listed on the FTSE 100. The company operates in the production of oil, gas, and metals. The majority of their extracts are petroleum, copper, iron, nickel, and coal which are then sold into many industries across the globe.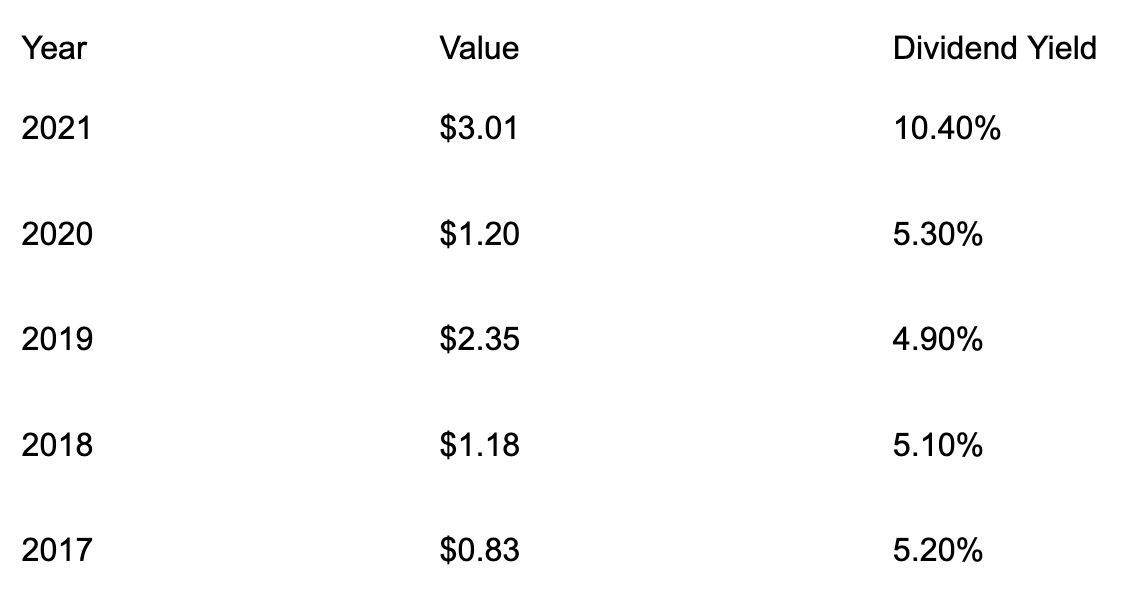 BHP had a high dividend rate of 10.40% in 2021. Dividends have generally been paid biannually with it being amongst the top 25% of dividend payers in the UK market. Furthermore, its dividend yield has been even higher than the industry average. Overall, due to its sheer size, BHP may offer a level of stability.
2022 Dividend
BHP has already confirmed a dividend of $1.50 per share, to be paid on the 28th March 2022. The cut-off for this (Ex-Dividend date) is 24th February 2022 so not much time to be eligible for the dividend. This is an interim dividend and, therefore, a forecasted final dividend payment date is in September 2022.
9. Polymetal International (POLY)
Polymetal is a precious metals mining company that operates across the world. The company operates through the exploration and extraction of precious minerals such as copper, zinc, and platinum as well as producing both gold and silver on a global level making it a world leader within the precious metals industry.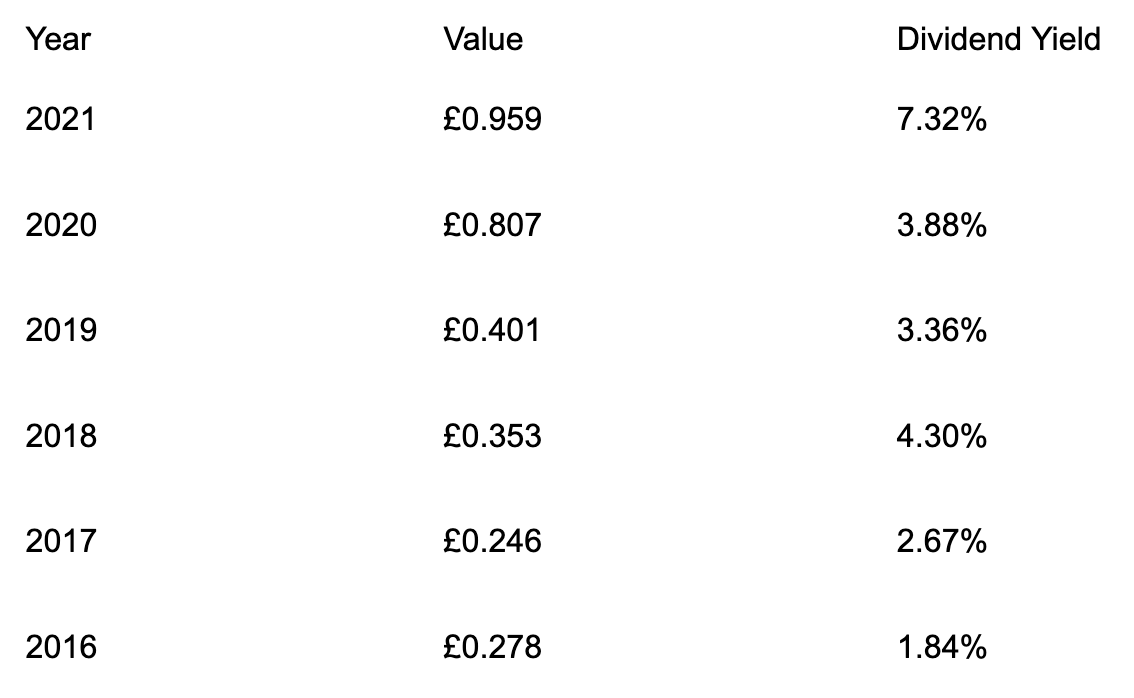 In comparison to other companies on this list Polymetal dividend history is relatively low in terms of yield with it only recently increasing its yield dramatically. However, as the dividend yield has been growing generally each year, it has to be considered.
2022 Dividend
POLY is yet to announce dividends for 2022. Every year since 2014, a dividend has been announced in March, to be claimed (Ex-Dividend date) often in May, for the payment date in May. Therefore, the announcement will likely take place in the first week of March for a great yield later this year. Also, every year, since  2014, POLY has announced an interim in August for the payment date commonly in December. Therefore, we can expect based on the last 8 years of data, POLY will announce a dividend in March and in August.
10. M&G (MNG)
M&G PLC is one of the largest global investment management companies in the world. The company provides retirement, savings, and investment management to both retail and institutional customers. It deals primarily with equities, portfolio management, fixed income, and real estate, both in the UK and overseas.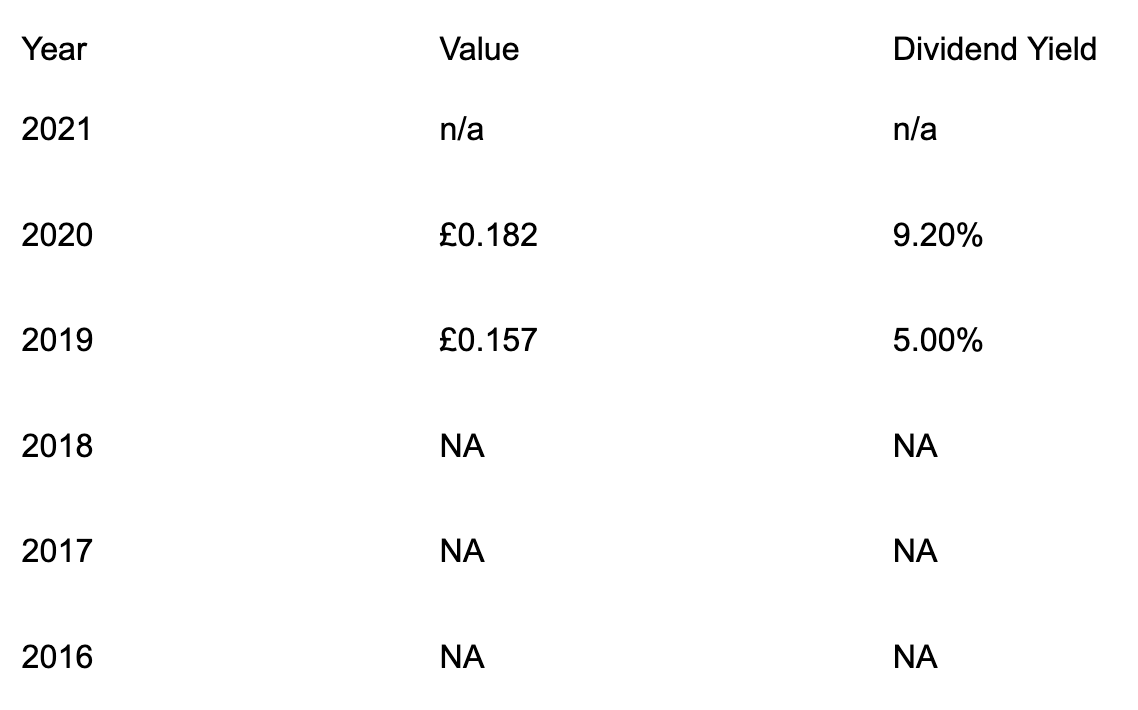 M&G is fairly new to the FTSE 100, only registering on the London Stock Exchange in 2019 after a de-merger from its parent company, Prudential. The company started paying dividends in 2020 and quickly rose to the top of the high-yielding list. The most recent dividend yield was 9.2% which is higher than the UK market average as well as the industry average. In contrast, dividends have only been being paid for the last two years and are not well covered by earnings with a high payout ratio.
2022 Dividend
MNG are yet to confirm their dividend amount, but they have announced dates. The interim payment will be on 28th April 2022, with the second dividend confirmed as 29th September 2022. As a relatively new high-paying dividend company, it is difficult to predict the expected amount. It may be worth waiting closer to the next Ex-Dividend date which is dated as of the 17th March 2022, for more confirmation.
Conclusion
To conclude many of the companies on this list have historically offered high dividends in comparison to the UK market average. However, future predictions of dividends can vary greatly depending on market conditions, performance as well as other factors.
It is important to be mindful of the Ex-Dividend date, which is the latest date shareholders can purchase stock to be eligible for the dividend. The payment date is the date eligible shareholders are paid the dividend.
This is not financial advice, please do your own due diligence before deciding to invest in any of these companies.