Trader Hub
£24.99 a month
Join the Samuel & Co Trading Community Discord Channel and become part of a professional traders network where you'll be able to discuss trade ideas, keep up-to-date with relevant market news, have access to Samuel & Co Traders trade ideas as well as access to Samuel Leach's stock watchlist report.
Once you have subscribed and your payment has cleared, we will be in touch to arrange access to our Discord channel.
What Do You Get?
This platform has been designed with professional and part time traders in mind, who are serious and passionate about trading the financial markets. This is a far step away from a signal providers channel, instead a professional channel with like minded traders sharing their analysis on upcoming trades and overall market trends.
Experienced traders share their knowledge and understanding on key news releases and what the numbers mean for markets going forward. Share your trade ideas with the fellow community and get their insights on your trades.
Use this platform to interact with fellow traders whilst being able to learn from other professional traders whilst keeping up to date with all the market updates via the news channel built into the platform.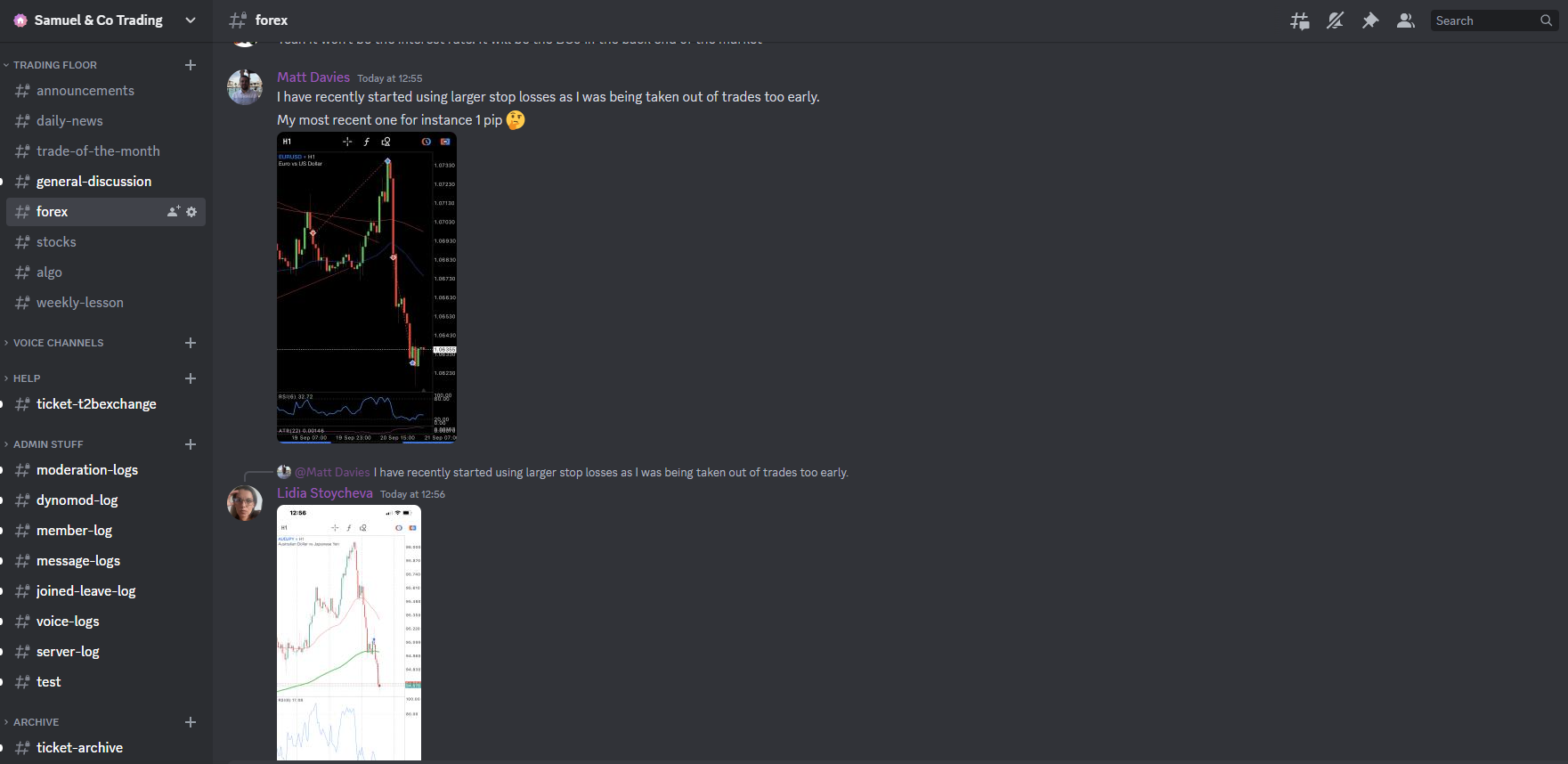 The Benefits
Each member is KYC verified so you know the members within this community are real people with the same common interest to trade. The community is heavily monitored by both automated and manual admins so you can focus on sharing your trading analysis with the community and not worry about any upsell from random users. Our Community has multiple channels you can take advantage of starting with the following:
News Channel – this is a channel you gain access to that will push any major market news in real-time to this channel. Allowing you to stay up to date with what is moving the forex and equities market.
Forex Channel – this channel is where our community can discuss the forex markets, their trade ideas and analysis with the trading community.
Stock Channel – this channel is where our community can discuss the stock markets across global stock markets. Mainly UK and USA stocks are discussed here with the trading community, where members share their trade ideas and analysis
FAQ's
What is the purpose of the Trader Hub?

We created a Discord channel after our traders requested for a space to connect with other like minded individuals from all over the world. Everyone in the Trader hub is a genuine trader with a common goal to trade the markets and improve.
What different channels are in the Samuel & Co Trading Trader Hub?

We have a variety of channels for our traders to discuss different topics. Our channels include Forex, Stocks, Algos, News and announcements.
How do you keep traders up to date with the markets?

One of the ways the Trader Hub is unique from other trading communities is our Daily News channel. This is an area where Samuel & Co Traders can access the latest market releases, allowing traders to make informed trading decisions as soon as they happen.
Can we post our chart analysis?

Of course you can share your chart analysis and trade ideas. However, Samuel & Co Trading does not condone any form of trading signals, so if anyone is promoting paid services or enforcing their opinion they will be removed from the hub. This helps ensure everyone is there for the right reasons.
How do I join the Trader Hub?

You can join directly for a monthly subscription fee of £24.99 per month. Alternatively, if you are a funded trader with us or a student of our weekly lessons you get access to the hub for free. We KYC verify all of our members before they join to ensure no paid promotion is advertised through our community channels.
Does Samuel Leach post on the Hub?

Samuel regularly posts in the groups with announcements, giveaways, company updates and valuable insights into his trade ideas.